Jean Sand Blasting Machines
Jeans Blasting Machines are designed specially for blasting jeans.

It is equipped with semi-sealed Working chamber, blasting media recycling and separating system, and dust-collecting.

The blasting media will be recycled and separated automatically, which can save work time, reduce blasting media consumption and pollution.

It can maintain the pressure and improve the processing quality as well as reducing compressed air consumption and blasting media consumption by using the pressure-retaining automatic blasting Valve.

The Working chamber door can be adjusted upward and downward, which is convenient for operation.

Double systems of automatic recycling and filtrating can stop the residua and fiber in the filter to keep the blasting pipe smooth.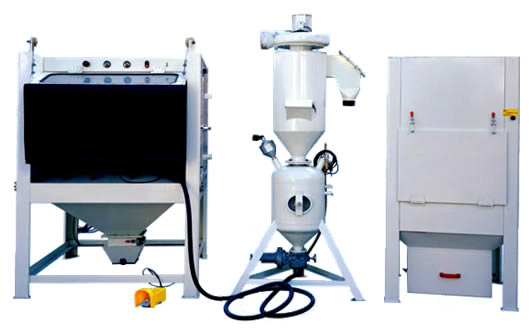 Model

1316

1220

Main Cabinet Dimension,mm

1300x 1600 x 1700

1200(W) x 2000(D) x 1700(H)

Blasting Cabinet

1250 x 1550 x 850

1150(W) x 1950(D) x 850(H)

Cyclone separator dimension,mm
Dia 400 x 2350(H)
Dust collector dimension,mm
920(W) x 920(D) x 1800(H)
View window size,mm
900(W) x 380(H)
Blasting gun

Boron Carbide nozzles dia 6mm or 8mm

Blowing gun
Nozzles dia 2mm
Illuminance

220V, 26W

Exhauster

1.5KW

Air Source

4-8bar (kg/m2), 2.5-3.5 (m3/min)

Dry filter dust-Collector

dust cleaning manually.